MUSEUM REOPENS
The West County Museum's Current Exhibit is Open Sat & Sun 11-2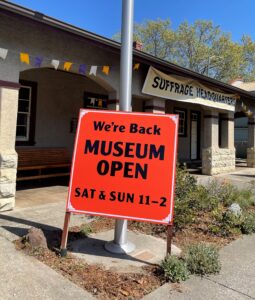 Classy Cars and Their Care
This exhibit takes a look at the automotive businesses in Sebastopol from the early 1900's to today and includes auto dealerships, parts stores, repair shops, and gas stations.
Learn about the longest running address where a gas station has been since 1932, plus the oldest building, built as a modern Mobil Oil Service Station in 1940, still standing today. 
Take a step back in time with our pictorial display which will let you reminisce about the town as you remember it.
You will also see a large collection of 4" hub caps, over 50 radiator badges, and hand tools actually used at a local gas station by its operator in 1958.  Also on display are war time ration mileage stamps, a 1932 Sebastopol Chevrolet Co. checkbook, and a curbside gas pump from the 1910's to name a few items. See images from the Car Show.
THE FARM IS OPEN!
Luther Burbank's Experiment Farm at 7777 Bodega Ave. (up the hill behind Burbank Senior Housing) is always open during daylight hours for self guided tours, plant sales, or just a pleasant walk. The Cottage, with the gift shop and historic Burbank exhibit is open on the 2nd and 4th Saturdays of each month from 10am-2pm